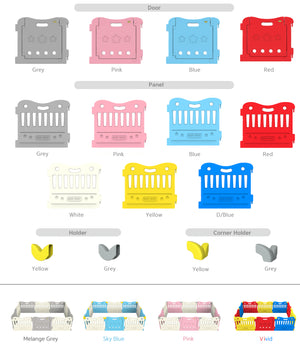 Babycare Playpen Parts
playmatusa.com
We are now providing extra parts to purchase for your convenience.
If there are parts that you need and are not available from the list, please contact our customer service at info@hoobeiusa.com
Babycare play pen parts
I only needed a corner piece and was excited to be able to purchase the part I needed. It works great. The reason I gave it 3 stars is because it said no shipping fee, but I had to pick up my part from the post office in town because the postage on the ripped envelope it was sent in wasn't enough so I ended up paying just to get it from the post office. I tried to send an email regarding this because there is no phone number to call and never received a response. I also received no tracking for this order because whomever sent it, dropped it in a mail box and not the post office, this was what the lovely lady at the post office explained to me. Had they dropped it off at an actual post office, I wouldn't have had to pay to get my part because it couldn't be delivered due to the postage not being paid, it would have been delivered to my home, and I would have received a tracking number for my order. I can only imagine how much more it would have cost had the item been bigger.
relieved you sell parts individually. we lost them while moving!
Helpful customer service
Excellent customer service - they reached out after I submitted my order to verify which playpen I currently have, since there are two existing models and they wanted to ensure the correct one was sent. Delivery was fast and the panels were well packaged.
I ordered in pink and received gray